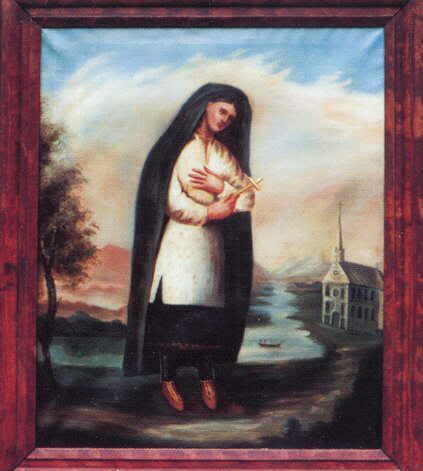 A portrait of Kateri Tekakwitha, painted after her death by Father Chauchetière
Bl. Kateri Tekakwitha will be the first female Native American saint if she's canonized. St. Juan Diego the Aztec 'Indian' who saw Our Lady of Guadalupe in Mexico is the first male Native American Saint.
I began praying through Bl. Kateri Tekakwitha, whom I had only known from those little books of saints, when I was very sick once. I was asking for intercession of other saints that time and I felt them directing me to ask for Bl. Kateri's prayers. Soon after I did, the sickness left me.
That was the year (2002) of World Youth Day in Toronto. I believe that I was actually able to go and see Pope John Paul II from 5 feet away because of her prayers. On her way to (or back from?) World Youth Day, my sister stopped at the National Shrine of the North American Martyrs and got me a picture and holy card w/third class relic (cloth that has touched her body).
In the days that led up to WYD2002 I was reading more about Bl. Kateri.
Born in present-day Auriesville, NY (where the shrine is) in 1656, her father was a Mohawk 'Indian' warrior and mother, a Christian, was an Algonquin. When she was 4 she lost her parents in an outbreak of smallpox. The disease also left her with poor eyesight and marks on her face. She was adopted by her uncle, a chief.
This girl suffered a lot throughout her 24 years of life. But she was faithful to the end!
After learning more about the faith from French Jesuit missionaries, she was baptized and took the name Kateri—Catherine. Eventually her own family began to persecute her because of her Christian faith. Her life was even threatened! So Kateri went north to Canada with some other Christian 'Indians'. There she was free to dedicate herself to prayer, pentitential practices and caring for the sick and aged. Kateri was full of zeal! She would wait outside early to go to Mass, even in the winter!
In 1679, Kateri took a vow of chastity, consecrating her virginity to God. The next year, she died. Her scars disappeared and she looked radiantly beautiful according to eyewitnesses at the moment of her death!
She is called the "Lily of the Mohawks".
Pope JPII beatified my friend Kateri in 1980. She needs a miracle so that she'll be St. Kateri. Here is a prayer for her Canonization
O God who, among the many marvels of Your Grace in the New World, did cause to blossom on the banks of the Mohawk and of the Saint Lawrence, the pure and tender Lily, Kateri Tekakwitha, grant we beseech You, the favor we beg through her intercession; that this Young Lover of Jesus and of His Cross may soon be counted among her Saints by Holy Mother Church, and that our hearts may be enkindled with a stronger desire to imitate her innocence and faith. Through the same Christ our Lord. Amen.
(She was canonized by Pope Benedict XVI at Saint Peter's Basilica on 21 October 2012)